Generation Atomic at the UN Climate Talks

Generation Atomic makes it back to the UN Climate Talks
Gen A was again able to attend the international climate talks in Katowice, Poland. The climate talks aka "COP24" are a key battleground in the push to re-shape the global perception of nuclear energy. Our strategy this year? Tell a story about why the world needs nuclear by using the following tactics:
Friendly and persuasive conversations: we conducted on-site advocacy trainings so that our volunteers could more effectively engage with other attendees. They were amazing!

Informative Events: we helped the NICE Future Initiative and the European Nuclear Society - Young Generation set up side events so nuclear and energy experts could present on exciting developments in nuclear energy

Inflatable Polar Bears: our mascot Melty melted hearts and helped break the ice to initiate important conversations about the consequences of excluding nuclear power

Singing: attention grabbing and immediately disarming, we used music to make an impact and get our message across.
Day 1 - Getting our feet under us and asking Arnold an important question.
Monday, December 3rd was the first of 11 days of nonstop activity and after nearly 30 hours of traveling (Long layover to save money on the flight + a 7hr flight delay), Austin and Eric felt like they had just pulled an all-nighter. Moreover-- we had received confirmation on our funding to go to COP a mere three weeks before landing, so there was still much preparatory work to be done. So-- we planned like hell all morning and got to the venue in the early afternoon.
After getting registered and setting up our booth along with our friends from the European Nuclear Society - Young Generation, a few of us went to catch Arnold Schwarzenegger give a speech on the importance of climate action. Afterwards, we got the chance to ask him one question as he walked out:
Eric: Governor, how do you feel about nuclear power?
Arnold: Uhhh, I don't like it right now.
That's not what we wanted to hear, considering he's been a proponent in the past. However, at least he indicated that he could be persuaded to support it!
Day 2 - Nuclear conversations with SustainUS (and others) and the European Nuclear Society Panel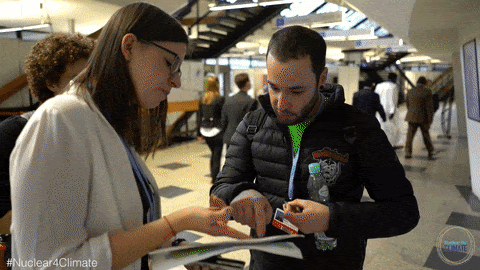 Day 2 gave us the opportunity to explore the conference space a bit more and mingle with the other attendees. The country pavilions were by far the most impressive with each country sporting flashy signs and booths meant to out-show the other countries' and all of the marginal amounts of climate progress that collectively have been made. The city of Katowice probably had the most honest presentation: cages full of coal marked the four corners of their booth, where you could also explore a showcase of different coal-derived products. Whatever the intention, the reaction among most attendees bordered on outrage. The shared feeling even allowed Austin and River to spark up some conversation with members of the SustainUs delegation who were equally aghast and looking for answers. The discussion inevitably turned to nuclear and we had the first of several identical conversations that took place with a few select youth climate groups throughout the conference. While the SustainUs members fell on the side of skeptics when it came to the topic of nuclear energy, they were far more open-minded about it than older members of the Big Green organizations and willing to have honest conversations about it. These interactions, which were few and far between, were encouraging glints of hope that millennials in particular are capable of looking at nuclear with clearer vision within the context of climate change.
Tuesday was also the first Nuclear For Climate side event, hosted by the European Nuclear Society, and called Inclusive Energy Mix - The Only Effective Way To Reduce Carbon Emissions. Panelists included
Tuomo Huttunen, Senior Advisor at Finnish Energy;

Valérie Faudon, Executive Managing Director chez SFEN - Société Française d'Energie Nucléaire;

Kirsty Gogan, Co Founder and Global Director at Energy for Humanity;

Hal Turton, Energy Economist, IAEA

Eric Meyer, Executive Director of Generation Atomic; and

Daniel Liu, Assistant Manager of International Affairs, Japan Atomic Industrial Forum
The panelists each shared refreshing perspectives from the different sectors that they represent on the importance of diversified energy systems.
Day 3 - Asking more hard questions at events and gathering petition signatures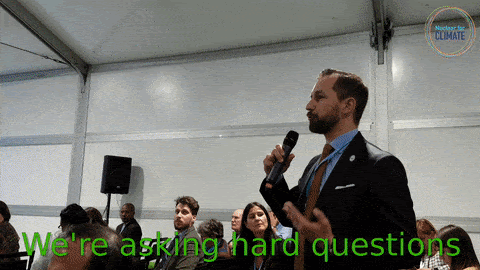 Our team used much of day 3 to attend relevant side events and ask difficult questions related to nuclear that we knew would not come up without our attendance. Jadzia, started off strong by speaking up in a panel discussion about just transition in Poland (the difficult process of moving fossil fuel workers and communities into a cleaner energy economy). As a native to Poland's coal country, Jadzia caught the attention of the room by asking why the development and production of new nuclear technologies - SMRs in particular - could not be considered an appropriate destination for the large number of communities in Poland that rely on the coal industry for work. The panelists who responded agreed with her and said that this would make sense when the nuclear industry could provide such forms of employment.
Meanwhile, Tuomo and River went to a side event called "7 Million Unacceptable Deaths" to ask a panel of public health experts a question about the 1.8 million lives saved by nuclear since the 1970s. They received some kudos from fellow members of the crowd for bringing up the topic but were also handed a predictably dodgy answer from the panel leader Dr. Maria Neira, Director of Environment and Social Determinants of Health Department (PHE) at the World Health Organisation. She did offer us the opportunity follow up afterwards and Tuomo and River spent the next several hours pursuing her in order to get clarification on the answer. That clarification ended up being equally as diplomatic as the first and Dr. Neira assured us that the WHO focuses on the isolated health impacts of different energy sources, so it was not their job to compare which ones are better and worse.
Day 4 - The NICE Future Panel gets crashed by anti-nukes, Melty shows up, and we sing for the COP24 Cafeteria
On Thursday the Nuclear For Climate crew assembled for an exciting side event titled Clean, Reliable Energy: Accelerating Emissions Reductions and Energy Security through Innovative Technology and Uses of Advanced Nuclear Energy. Panelists included
Ryan Fitzpatrick, Deputy Director for Clean Energy at Third Way;

Eric Meyer, Executive Director of Generation Atomic;

Lena Andriolo, Vice President of International Youth Nuclear Congress;

Frank Hiroshi Ling, author and professor at the University of Tokyo and author; and

Emilia Janisz of Nuclear4Climate and the External Relations Manager at the European Nuclear Society.
The event was kicked off by a representative of the Polish government outlining their commitment to building the country's first nuclear power plant by 2030. This was followed up shortly by an encouraging video message from Executive Director of the International Energy Agency, Fatih Birol, who said that next May at the Clean Energy Ministerial, the IEA will report on "nuclear power in clean energy transitions". The aim he said is "to bring nuclear power back to the clean energy debate". A lively discussion followed among the panelists afterwards but as the event came to an end, like clockwork, the panelists were interrupted by anti-nuclear demonstrators waving flags and calling us lobbyists for the uranium industry. The experience was nothing new but it gave a couple of the panelists, including Ryan, the opportunity to engage in heated discussions outside of the conference room.
Later in the day we were given the opportunity to execute a flashmob in the main cafeteria where Eric's booming vocals and Melty's inflatable dance moves provided the backdrop for the rest of the Nuclear4Climate crew to hold up signs calling for the inclusion of nuclear power in the clean energy discussion. The action garnered photos, encouragement, and a few recorded sound bites from viewers.
Day 5 - CAN Conspiracy Conjectures
By day 5, we were feeling pretty good about our efforts. We were also very tired. We'd collected over a hundred signatures on our petition to include all sources of clean energy in climate goals, and we'd made some big splashes with our flash mob and speaking events. We were getting noticed, perhaps… too much?
Climate Action Network (CAN), a network of NGOs, puts out a daily publication at the conference called ECO. Apparently it's unfathomable that ordinary people who don't work in the nuclear industry could be proponents of the technology. But alas, there we were on page 3, the "Wolves in Sheep's clothing".
It was a nice distillation of some of the very real (though often inflated) criticisms of nuclear energy. Truthfully, there is a history of negative health impacts on indigenous communities, especially in the very early days of uranium mining for nuclear weapons. Nowadays, the majority of the world's uranium comes from Canada, Australia, and Kazakhstan where modern techniques and practices have made it one of the safest forms of resource extraction.
Still, keeping the microscope focused solely on uranium mining prevents us from making pragmatic decisions about low carbon energy choices for the future. CAN conveniently omitted the fact that wind and solar generation also require mining-- more mining than nuclear-- and these raw materials are also extracted in
less-than-sustainable ways
, from
areas of conflict and human rights violations
. How is anyone supposed to make an informed decision when the facts are so skewed?
Ironically (in an Alanis Morissette way), our wolf in sheep's clothing Austin was wearing a wolf hat that very day, quizzing random people about their nuclear knowledge. Some interesting takeaways? Most people were unaware that nuclear was such a large percentage of global clean energy (~35%), and almost no one knew whether spent nuclear fuel was a solid, liquid, or a gas.(!) As a nuclear community, we have a long ways to go.
Day 6 - The March
Our Friday expose was only a taste of the coverage we'd be getting as we began the weekend. On Saturday our team showed up to March for Climate - COP24, an unofficial climate march organized by local Polish activists. We were feeling good: our group was comprised of members from the Nuclear4Climate delegation as well as some additional Polish allies, we were rolling 3-Meltys-deep, and the weather was great. Despite the ice-cold stares of the hundreds of riot police surrounding the area, the 3 Meltys and Eric were the first to arrive on the scene and lost no time in garnering tons of attention: group photos, lots of press, and lots of hugs. Singing inevitably ensued, which only attracted an additional wave of attention.
Unfortunately this was too much to handle for the four or five anti-nuclear demonstrators who had arrived earlier and strategically distributed their flags around the group in an effort to inflate their numbers. We'll give it to them: that ended up being a pretty effective move. As our singing continued, the anti's came over to make us stop by putting their stickers on the Meltys and trying to rip Eric's mic out of his hand. The march organizer was even called over and told us to leave because he didn't want nuclear to be represented. Not wanting any conflict, the police politely asked us to move across the street because we were a smaller group and they did not want a fight to begin.
We continued our message from the other side of the street: Meltys shuffling around while Eric sang and took the time in between songs to point out the close-mindedness of preventing select groups from being included in the climate discussion. As if our message wasn't clear enough (that all clean energy technologies are needed for action on climate), our Polish allies propped up their flag that essentially spelled out "Nuclear + Renewables = happy planet". The scene was enough to garner attention from the international press-- we landed in the center of an article later that day written about the march and published in some of the world's largest news outlets like ABC, The Daily Mail, and the Seattle Times.
The photo seen around the world
A growing community of Polish pro-nuclear environmentalists.
While the attention we received was encouraging, it was still overshadowed by the fact that we were not welcome to participate in a public demonstration targeting the very issue that we have also dedicated our lives to.
Day 8 - The U.S. side event and some sneaky anti's
With the majority of our big events complete, we started off week 2 with the goal of having as many conversations as possible while continuing to ask difficult questions at the right events. A highlight of Monday however was the US side event titled "U.S. Innovative Technologies Spur Economic Dynamism". The panel was made up of representatives from think tanks and different government agencies. Just like last year though, the youth action group SustainUs executed an action that interrupted the discussion to shine light on the Trump Administration's refusal to act on climate change or drawdown the use of coal and other fossil fuels. The group started chants within the presentation hall that got picked up by the crowds of people outside who couldn't make it in. After about 5 minutes they marched out the side entrance in order to hold a more accessible rally down the hall.
This provided anti-nuclear demonstrators in the crowd the opportunity to slip into the procession unnoticed and throw up their flag as if they were a part of the SustainUs action. Eric made sure that the SustainUs organizers were aware of what was happening and they lost no time in asking the anti nuclear activists to take their flag down.
That morning the Nuclear4Climate crew got the OK from Marcos to set up our own action near the front of the conference center: one of the busiest areas of the entire event. We inflated a few Meltys and what ensued was a non-stop stream of hugs and photo ops. People from every country imaginable were excited about the bears and equally interested in talking to the other N4C volunteers about our work and what we were doing at COP. It was an encouraging experience and a reminder that the nuclear discussion is not limited to Europe and North America.
Day 12 - heading home
On Thursday we left Katowice in our respective directions home. Eric also received some closure in regards to the pins we ordered that never showed up. In light of two failed deliveries, the company refunded us and provided a credit for the next order. This means that 2000 pro-nuclear buttons are with our friends at the Polish Nuclear Society, and they will get distributed to other European Nuclear Society chapters in the near future!
Looking forward, the Nuclear4Climate delegation is excited to visit Chile next year for COP25 where we'll have the opportunity to meet some fresh faces outside of the European and North American bubbles and continue our mission to change hearts and minds for one of our most important clean energy sources.
Generation Atomic
1120 Vincent Ave N., Minneapolis, MN 55411