Michele Kearney's Nuclear Wire
Major Energy and Environmental News and Commentary affecting the Nuclear Industry.
Saturday, September 3, 2016
Posted by

Michele Kearney
at 4:27 PM
0 comments

Thursday, September 1, 2016
Nuclear industry confident of its future despite Hinkley delay
http://www.chroniclelive.co.uk/business/business-news/nuclear-industry-confident-future-despite-11823788
Posted by

Michele Kearney
at 7:26 PM
0 comments

Posted by

Michele Kearney
at 7:23 PM
0 comments

Posted by

Michele Kearney
at 7:22 PM
0 comments

Posted by

Michele Kearney
at 7:17 PM
0 comments

Tomorrow's Nuclear Reactors are Closer Than You Think
March 1, 2016 - 1:00pm
Dr. Rachel Slaybaugh is among the new generation of scientists seeking to revolutionize nuclear energy. She is an assistant professor of nuclear engineering at the University of California-Berkeley. | Photo courtesy of UC Berkeley.
A new generation of innovators is pioneering the future of nuclear energy in partnership with our
National Labs
. Citizens and policymakers leading the global transition to a low-carbon economy are focusing efforts on developing -- and building -- advanced nuclear reactors. To support these efforts, the Department of Energy is working to forge key partnerships and support a culture of nuclear innovation driven by this new generation of scientists, university researchers, entrepreneurs and investors.
"Nobody told today's students that nuclear innovation is supposed to be slow. They chose nuclear because they want to save the world." - Dr. Rachel Slaybaugh

The current nuclear reactor fleet is the low-carbon workhorse of the electricity world. In 2014, nuclear power generated about 60 percent of the carbon-free electricity in the United States. Today's light-water reactor designs provide a safe, effective and affordable bridge to new nuclear reactor technologies -- promising increased flexibility and the ability to match electricity generation with demand.
First across that bridge may be
small modular reactors (SMRs)
, which vary in size from 50 to 300 megawatts (about one-fourth the size of current reactors). With lower initial capital investments and shorter construction timelines than traditional-sized reactors, SMRs are progressing toward commercialization. They could replace aging, carbon-emitting coal power plants, and their smaller size provides more flexibility in where they can be located.
Tomorrow's fission reactors will broaden our energy options by using innovative fuels and, potentially, alternative coolants such as high-temperature gas and liquid metal or molten salt instead of water. Since many advanced reactor designs operate at a higher temperature than light-water reactors, they are ideally suited to replace fossil fuels for industrial applications that require high temperature process heat (such as oil refining and biofuel production) with nuclear-generated heat at an enormous savings in carbon emissions.
Nuclear innovation doesn't stop at fission. Companies large and small, along with labs such as
Princeton Plasma Physics Laboratory
are studying nuclear fusion -- the energy source of the sun and stars -- in the hopes of someday harnessing fusion for power on Earth.
Nuclear innovators are also reshaping the federal government's role in nuclear energy. The Department of Energy recently established the
Gateway for Accelerated Innovation in Nuclear (GAIN)
to provide the new nuclear energy community with access to the technical, regulatory and financial support necessary to move new nuclear reactor designs toward commercialization. GAIN is based on feedback from the nuclear community and provides a single point of access to the broad range of capabilities -- people, facilities, infrastructure, materials and data -- across the Energy Department and its national laboratories.
Led by
Idaho National Laboratory
in partnership with
Argonne National Laboratory
and
Oak Ridge National Laboratory
, GAIN integrates and facilitates efforts by private industry, universities and national laboratories to test, develop and demonstrate innovative nuclear technologies to accelerate the licensing and commercialization of these systems. Focused research opportunities and dedicated industry engagement ensures that Energy Department-sponsored activities make a difference for companies working to bring new reactor designs to market.
University of California-Berkeley professor Rachel Slaybaugh summed up the buzz around nuclear technology innovation during a recent roundtable on advanced nuclear power: "Now is an exciting time to be in nuclear energy," she said. "Nobody told today's students that nuclear innovation is supposed to be slow. They chose nuclear because they want to save the world. Defining how the universities facilitate collaboration between students and industry will be key to our success."
Editor's Note: This post was authored by writer at Idaho National Laboratory, one of the Department of Energy's 17 National Laboratories.
Posted by

Michele Kearney
at 7:10 PM
0 comments

Good Afternoon,
On

Thursday, September 15th, 2016

, the Department of Energy (DOE) will host a public meeting in Washington, DC to summarize feedback received as part of the December 23, 2015 Invitation for Public Comment and subsequent public meetings on consent-based siting. The meeting will also provide an opportunity to discuss next steps in consent-based siting with participants.
DATE AND TIME:
The meeting will take place on

Thursday September 15, 2016 from 2:00 - 4:00 p.m.

Eastern Daylight Time. Department officials will be available to discuss consent-based siting during an informal open house 30 minutes before and after the formal meeting.
LOCATION:
The meeting will be held at the Embassy Suites by Hilton Washington D.C. Convention Center at 900 10th St NW, Washington, DC 20001. The entire meeting will be available live via Live Webstream Link
REGISTRATION:
Registration is encouraged to assist with planning efforts. Registration Link
BACKGROUND AND AGENDA:
DOE is designing a consent-based siting process to establish an integrated waste management system to transport, store, and dispose of spent nuclear fuel and high level radioactive waste. In a consent-based siting approach, DOE will work with communities, tribal governments and states across the country that express interest in hosting any of the facilities identified as part of an integrated waste management system. As part of this process, the Department issued an Invitation for Public Comment in the Federal Register on December 23, 2015 and hosted eight public meetings across the United States in 2016 to seek input on the elements that should be considered in the development of a consent-based siting process. This

September 15, 2016

meeting will summarize feedback received and provide an opportunity to discuss next steps in consent-based siting.
For more information, and to view the agenda, please visit
our website at energy.gov/consentbasedsiting.
Posted by

Michele Kearney
at 6:28 PM
0 comments

Posted by

Michele Kearney
at 2:48 PM
0 comments

Posted by

Michele Kearney
at 2:47 PM
0 comments

By

Jason Hartke | Commercial Buildings Integration Program Manager
on August 31, 2016 at 5:00 PM
Energy Secretary Ernest Moniz takes a slap shot at Boston College's Conte Forum to promote green sports arenas. | Photo by Simon Edelman, Energy Department.
They are the places where
amazing
happens. Where we hear the roar of the crowd. Where our hearts are lifted, and yes, sometimes shattered. They are the professional and collegiate stadiums and arenas that play host to the sports we love and are found in every part of the country. These special places make for a magnificent setting to watch and root for our various sport teams, yet also often stand out as iconic buildings representing proud, highly recognizable silhouettes in their respective city's skyline.
http://breakingenergy.com/2016/08/31/game-on-doe-initiative-supports-leadership-in-sports-venues/?utm_source=hs_email&utm_medium=email&utm_content=33706817&_hsenc=p2ANqtz--uWC4R6FTRtM3V0nbzygaYzwJWspH-S_Bmxx7ozCCeshLp6e-BiAtxEP8IaIxn5edwVvHV2Wxf6y8oCQ8tFgTxe4UCfQ&_hsmi=33706817
Posted by

Michele Kearney
at 2:43 PM
0 comments

Posted by

Michele Kearney
at 2:24 PM
0 comments

Posted by

Michele Kearney
at 2:12 PM
0 comments

Posted by

Michele Kearney
at 2:09 PM
0 comments

Fukushima Update
9/1/16
–
Almost 100% of Fukushima rice harvested in 2015 had no detectible contamination… 99% of Fukushima-area fish and shell-fish have no detectible F. Daiichi radioactive Cesium… Okuma Town will offer its municipal property for the temporary contaminated rural waste facility... A miniscule cooling water leak at Ikata unit #2 makes headlines… Being antinuclear is more important than a governor's possible political impropriety… The first wholly-objective report on Kagoshima's governor is posted.
http://www.hiroshimasyndrome.com/fukushima-accident-updates.html
Posted by

Michele Kearney
at 2:08 PM
0 comments

Hurricanes – And Preparedness — Are In Focus This Month
Scott Burnell
Public Affairs Officer
The NRC joins the rest of the federal government this September — National Preparedness Month — in urging you keep your emergency plans up to date. Your plans should cover natural hazards for your area, including earthquakes, tornadoes and hurricanes. With Tropical Storm Hermine taking aim at the U.S., now is a particularly good time to think preparedness.
The NRC's preparedness planning deals with potential accidents with radioactive material, particularly nuclear power plants.
If you live within about 10 miles of a U.S. nuclear power plant, the plant sends you emergency planning information every year. You might get this information in the form of a calendar, brochure or other document. A very important part of these materials discusses how emergency plans cover special groups such as students or people with disabilities. The materials include who to contact ahead of time for any additional help you, a family member or neighbor might need during an emergency. When you share this information with emergency officials, they can also use it during natural events.
The planning materials also include basic information on radiation, instructions for protective actions such as evacuation and sheltering in place, and contacts for additional information. It's always good to store this information where you can easily find it if needed.
Another key part of your emergency plan is staying informed during an event. The NRC requires every U.S. nuclear power plant to have reliable ways of quickly informing people within 10 miles that something's happening. This can involve sirens, tone-alert radios (think weather-alert radios), or emergency officials driving through your neighborhood and giving instructions over loudspeakers. A plant's annual planning information will include the radio or television channels to tune to for
Emergency Alert System (EAS)
information and instructions during an event.
The NRC examines all of this
emergency preparedness
work in assessing every U.S. nuclear power plant's ability to protect the public. Working with the
Federal Emergency Management Agency
, the NRC grades a plant's full-scale
exercise
at least once every two years. These exercises maintain the skills of plant, local, state and NRC emergency responders, as well as identify anything the plants need to improve. NRC inspectors also evaluate additional plant drills.
You can find more general information and tips on creating your family's emergency plans at
Ready.gov
. Check out our YouTube video on hurricane preparedness at the NRC
here
.
Posted by

Michele Kearney
at 2:03 PM
0 comments

Posted by

Michele Kearney
at 1:58 PM
0 comments

Posted by

Michele Kearney
at 1:51 PM
0 comments

Posted by

Michele Kearney
at 1:50 PM
0 comments

Posted by

Michele Kearney
at 1:49 PM
0 comments

Posted by

Michele Kearney
at 1:47 PM
0 comments

As nuclear professionals, we find ourselves at a pivotal juncture. We face an unprecedented number of premature nuclear plant closures for reasons that have nothing to do with their safety or performance. However, we are also witnessing intense interest in the design and development of advanced reactor systems, including from many in the environmental community who have historically opposed nuclear energy.
In these turbulent times, it is critically important that ANS continues to speak out on behalf of the men and women who comprise the breadth of the nuclear professional community: not one particular industry, not one specific sector, not one limiting time frame. The non-aligned structure of ANS not only gives us an independent voice, but one that is influential and strongly respected. Every day, ANS works with decision makers in Congress, the Executive Branch, and state government leaders to advance forward thinking, technically informed policies in a variety of areas, including:
A robust nuclear research and development portfolio, including support for next generation advanced reactor systems;

Strong federal stewardship for U.S. university-based nuclear education programs and students to prepare the next generation of nuclear technologists and engineers;

The continued availability of radioactive isotopes and sources for medicine, manufacturing, food irradiation, and medical sterilization;

Civilian nuclear technology export regulations designed to maintain U.S. competitiveness in global markets and influence over safety and nonproliferation norms;

Complete, unbiased information to state governments on policies that appropriately value nuclear power when setting policy.
In a political environment so dominated by messaging and spin, our policymakers need clear-eyed assessments of technical issues and an unbiased, long term view that only ANS can provide.
ANS is only as strong as its voice, and its voice is bolstered by our thousands of members who are involved in the Society, who make our mission to advance nuclear policy successful, and who make us heard in the halls of Congress, the offices of federal agencies, and the chambers of state legislatures. Join me by extending your ANS membership through 2017, so we continue our vital mission to promote nuclear science and technology, one voice at a time.
Posted by

Michele Kearney
at 12:39 PM
0 comments

Wednesday, August 31, 2016
Posted by

Michele Kearney
at 7:16 PM
0 comments

Posted by

Michele Kearney
at 7:15 PM
0 comments

Posted by

Michele Kearney
at 7:14 PM
0 comments

Posted by

Michele Kearney
at 7:12 PM
0 comments

Posted by

Michele Kearney
at 4:14 PM
0 comments

Posted by

Michele Kearney
at 4:12 PM
0 comments

Deputy Under Secretary of Energy to Provide Keynote at 2016 National Cleanup Workshop
Klaus joins a long list of confirmed participants for the workshop that will bring together senior
DOE
executives and site officials, industry executives, and other stakeholders to discuss DOE's progress on the cleanup of the environmental legacy of the nation's Manhattan Project and Cold War nuclear weapons program.
Other confirmed participants in this year's workshop include:
Rep. Mike Simpson (R-Idaho), Chairman, House Energy and Water Development Appropriations Subcommittee

Monica Regalbuto, Assistant Secretary of Energy for Environmental Management, DOE-EM

Mark Whitney, Principal Deputy Assistant Secretary, DOE-EM

Joyce Connery, Chairman, Defense Nuclear Facilities Safety Board

John Kotek, Acting Assistant Secretary of Energy for Nuclear Energy, DOE

David Foster, Senior Advisor, Office of the Secretary, DOE

Matthew Moury, Associate Under Secretary for Environment, Health, Safety and Security, DOE

John Hale, Director, Office of Small and Disadvantaged Business Utilization, DOE

Shari Meghreblian, Deputy Commissioner, Tennessee Department of Environmental Conservation

Shelly Wilson, Federal Facilities Liaison, South Carolina Department of Health and Environmental Control

Stacy Charboneau, Associate Principal Deputy Assistant Secretary for Field Operations, DOE-EM

Frank Marcinowski, Associate Principal Deputy Assistant Secretary for Regulatory and Policy Affairs, DOE-EM

Candice Trummell, Associate Principal Deputy Assistant Secretary for Corporate Services, DOE-EM

Ralph Holland, Deputy Assistant Secretary for Acquisition and Project Management, DOE-EM

Jim Hutton, Deputy Assistant Secretary for Safety, Security and Quality Assurance, DOE-EM

Mark Gilbertson, Director, Office of Laboratory Policy, DOE-EM

Rod Rimando, Director, Office of Technology Development, DOE-EM

Dyan Foss, Global Managing Director Nuclear Sector, CH2M

Michael Graham, Principal Vice President, Bechtel

Cathy Hickey, President, WECTEC Government Services

Greg Meyer, Senior Vice President of Operations, Fluor

William Morrison, Executive Vice President, Atkins North America

Todd Wright, General Manager and Executive Vice President, AECOM Nuclear & Environment Strategic Business Unit
Additional information on the workshop, including how to register and an advance agenda, can be found
here
.
More than 350 people attended the
inaugural workshop
in late September last year. DOE made available the event's support materials, including links to 15 videos that captured addresses by Energy Secretary Ernest Moniz and Regalbuto, along with roundtable sessions focusing on the cleanup program's next five years and its major accomplishments. The presentations from the roundtable sessions, photos from the workshop, and a workshop attendee list are all available
here
Posted by

Michele Kearney
at 4:10 PM
0 comments

Posted by

Michele Kearney
at 4:08 PM
0 comments

Posted by

Michele Kearney
at 4:07 PM
0 comments

Posted by

Michele Kearney
at 4:06 PM
0 comments

Posted by

Michele Kearney
at 4:04 PM
0 comments

Posted by

Michele Kearney
at 4:01 PM
0 comments

Posted by

Michele Kearney
at 3:59 PM
0 comments

Workers construct the vertical storage casks to contain the canisters of vitrified high-level radioactive waste.
WEST VALLEY, N.Y.
– EM's West Valley Demonstration Project (WVDP) has crossed the halfway mark in its work to relocate 278 canisters of vitrified
high-level radioactive waste
for eventual disposal offsite.
Relocating the canisters from the Main Plant Process Building to an onsite storage pad is necessary before WVDP and contractor CH2M HILL BWXT West Valley (CHBWV) can demolish that building and the Vitrification Facility. The project marked the
first time vitrified high-level waste was relocated
for onsite interim storage in the U.S.
"This team has worked safely and tirelessly to plan, construct, train and operate the specialized equipment to relocate the canisters from the former reprocessing facility to allow for the demolition of the building to begin in the spring of 2017," EM's WVDP Director Bryan Bower said. "I could not be more proud of this team."
Workers relocate a vertical storage cask.
A vertical storage cask is transported to the interim storage pad.
Vertical storage casks moved to the interim storage pad are shown here .
Workers on Aug. 30 moved the 29th of 56 vertical storage casks with the 145th canister of vitrified waste about a half mile to the storage pad. The relocation effort, which began in November 2015, is scheduled for completion by December 2016, about one year ahead of schedule.
The project required years of extensive planning, design, construction, and building modifications, and the purchase of special transport equipment. Each cask — containing a stainless steel overpack with five canisters — weighs about 87.5 tons. Built onsite, the casks have 4-inch-thick steel liners and 20 inches of steel-reinforced concrete, and are designed for use for at least 50 years. Their design is based on spent nuclear fuel dry cask storage systems used throughout the world, with modifications for long-term storage of vitrified high-level waste.
Once the site of the first and only commercial nuclear fuel reprocessing plant in the U.S., WVDP is now an environmental cleanup and waste management project. In 1972, commercial nuclear fuel reprocessing ceased in the Main Plant Process Building. Workers vitrified the waste from 1996 to 2002, placing it into the 10-foot-tall canisters and storing them inside the building.
Posted by

Michele Kearney
at 3:55 PM
0 comments

The 235-F Risk Reduction "Dream Team" at SRS: (back row, from left) Antonio Jenkins, Tim Smith, Pete Smith, Roy Jones, Michael Sims, Wayne Minton, Tony McCall, Ronnie Farmer, Debbie Coleman, Sylvester Palmer, (front row, from left) Franklin McKinnis, Jamellia Reid,
Greg Hughes,
Angela Steward, David Miller. Not pictured: Clem Campbell.
AIKEN, S.C.
– When it came time to clean up a hazardous facility, EM's management and operations contractor at the
Savannah River Site
(SRS) took a novel approach: assemble an elite, handpicked team of experienced professionals for the job.
As cleanup of the inactive Plutonium Fuel Form (PuFF) facility in Building 235-F enters its second year, Savannah River Nuclear Solutions' risk reduction approach continues to bring success.
To lower risk of a fire, the team safely removed fixed combustibles, upgraded the fire detection system and de-energized unneeded electrical circuits. To remove materials from the cells and support material characterization, the team drains and cleans shield cell windows after their partial disassembly, installs lighting and mechanically isolates the cells.
Called the "Dream Team" by facility management, the 18 crew members were chosen primarily for their experience in handling radioactive materials, primarily in the SRS transuranic waste (TRU) campaign. TRU waste typically consists of protective clothing, tools, rags, equipment and miscellaneous items contaminated with small amounts of plutonium.
"We knew that we would be facing a lot of unknown challenges, and we needed a team who could handle them," said Jeff Hasty, 235-F risk reduction manager. "In my 29 years of experience, this is the only handpicked crew I have seen."
When the PuFF facility operated, workers created spheres and pellets from plutonium (Pu)-238 for the heat source in radiolytic thermal generators used to power deep space missions. The work left behind about 1,500 grams of Pu-238. Facility cleanup is challenging as workers face tight spaces with limited accessibility and fine Pu-238 particulate dust that is easily disturbed. The biggest health threat from plutonium is inhalation, so workers must work carefully to not stir up the dust.
"Some of us were asked if we would come to this project after TRU was over," said Ronnie Farmer, 235-F risk reduction first line manager. "We said yes, but only on one condition: you let us get the people who we want for this job. We were looking for people with the right temperament and experience, and upper management let us pick the people we needed to do this job correctly and safely."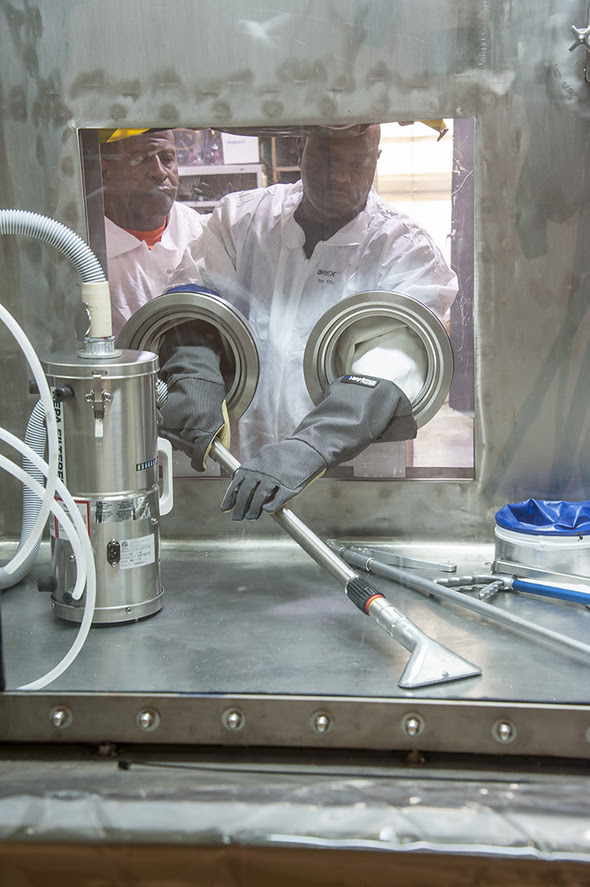 235-F Risk Reduction Operator Antonio Jenkins looks on while fellow operator, Sylvester Palmer, practices using a tool in the 235-F mock-up facility.
Inside the PuFF facility are nine cells of thick concrete walls with shielded windows. Employees worked with Pu-238 using remote manipulators from outside the cell. Material entered the facility in one cell, then moved to the others where the spheres and pellets were created.
Teamwork and self-motivation are the hallmarks of the team's success.
"If you sit back and watch them, they all know each other's job and work together so well, it is sometimes hard to tell who is who," said Hasty. "They are all willing to pitch in for the job."
The team is committed to the SRS standard of safety excellence. Its members regularly pause work to reassess situations and determine safer alternatives.
Radiological Protection Department Inspector Pete Smith recalled when team members struggled to remove a 550-pound cell window.
"We called a time out, got the rigging supervisor, and figured out the best and safest way to complete the job," he said.
The PuFF facility cleanup is scheduled for completion in 2021. Pu-238 and contaminated equipment removed from the facility will be safely packaged and stored for eventual shipment to the Waste Isolation Pilot Plant in New Mexico for permanent disposal.
"The fact is that the combination of experience, respect, management support, humor and comradery is what makes this team great," said Hasty. "They care about each other and it shows."
Posted by

Michele Kearney
at 3:54 PM
0 comments

Other EM Events Set for September Focus on Safety, Technology Development
Fluor-BWXT

Site Project Director Dennis Carr, left, learns how to operate a FirstLook robot from Fluor-BWXT Nondestructive Assay Engineer Kevin Banks.
PIKETON, Ohio
–
EM
and its
Portsmouth/Paducah Project Office
(PPPO)
hosted the "EM Science of Safety: Robotics Challenge" Aug. 22-25 at the Portsmouth Site in cooperation with cleanup contractor
Fluor-BWXT Portsmouth
(FBP).
EM believes robotics can enhance worker health and safety and improve performance, productivity and overall quality. The Robotics Challenge serves to educate EM's workforce on the use and benefits of robotics and related enabling technologies.
Technology demonstrations at the Robotics Challenge included a machine-learning pipe crawler, modular prosthetic limb, radiation robotic rabbit, serpentine and modular robots, and the RoboGlove from NASA's Johnson Space Center.
Members of the United Steelworkers (USW) Local 689-1 gained hands-on experience as they operated the robotic technologies.
"Structuring the demos to have the workers and operators conduct the demos provided us a unique opportunity to gain their perspectives on the utility of the technologies and to offer their insights on ways to make their work safer and easier to do," said Rodrigo Rimando, director of EM's Office of Technology Development. "Robotics, as a key mission-enabling technology, provide countless solutions to our very complicated and high-risk problem-set."
PPPO — in partnership with FBP — was pleased to host demonstrators from some of the most prestigious organizations around the country, Portsmouth Site Lead Joel Bradburne said.
"It was a very successful week of viewing new technologies. We are excited for the possibilities for the use of these technologies not only to increase efficiency, but reduce personnel exposure to hazards to complete our mission," Bradburne said. "We believe this effort will lead to further deployment of robotic technology, not only at our sites, but also other DOE sites around the country."
Two PackBots designed and built by Endeavor Robotics with mounted radiation sensor/communication are prepared for the demonstration.
Following the Robotics Challenge, a
Sept. 14
event for the bipartisan House Nuclear Cleanup Caucus on Capitol Hill in Washington, D.C. will focus on how technology development can make EM's cleanup of nuclear waste sites safer and more effective and cost efficient.
"Boosting technology development through our science of safety initiative will result in smart solutions to the cleanup challenges of today and
tomorrow
," said EM Assistant Secretary Monica Regalbuto, who will participate in the event's panel discussion. "I look forward to updating the caucus on this initiative and how it will better position EM to meet our shared cleanup goals as we complete some of the most technically complex and hazardous work in the world."
The caucus advocates for EM cleanup and provides updates on the program to members of Congress.
The related events of EM's science of safety initiative will be featured at the National Cleanup Workshop
Sept. 14-15
and DOE's "Advancing Environmental Stewardship through Innovation Lab Day" on
Sept. 13
.
The National Cleanup Workshop will bring together senior DOE executives, officials from DOE sites, industry executives, and other stakeholders to discuss EM's cleanup progress.
At the Lab Day
event on Capitol Hill, members of Congress and their staff will learn about the capabilities and contributions of the national laboratories in four key areas: advancing the science of safety for cleanup, enabling a sustainable future, understanding earth systems, and coping with emergencies. Energy Secretary Ernest Moniz and Regalbuto will join thought leaders in a
fireside chat illustrating how the network of national laboratories is a global innovation powerhouse.
The science of safety initiative aims to increase collaborations within DOE, other federal agencies and in the private non-nuclear sector to gain expertise in advanced robotics to enhance safety and quality of life for workers.
Posted by

Michele Kearney
at 3:48 PM
0 comments