What are the Lessons Learned from Fukushima?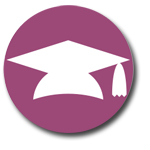 After the Fukushima accident, a task force of senior NRC staff reviewed the circumstances of the event to determine what lessons could be learned. In July 2011, the task force provided
recommendations to enhance U.S. reactor safety
, and these became the foundation of the NRC's post-Fukushima activities. The Commission then approved a three-tiered prioritization of the recommendations as summarized below (note that
Recommendation 1
is being addressed outside of the three tiers).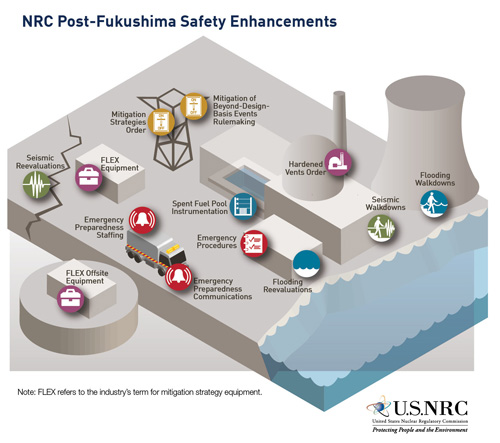 Tier 1 Activities
| Activity | Brief Description | NRC Addressing by… |
| --- | --- | --- |
| Mitigation Strategies | To enhance the capability to maintain plant safety during a prolonged loss of electrical power. | Order |
| Containment Venting System | To provide a reliable hardened containment vent system for boiling water reactors (BWRs) with Mark I or Mark II containment designs. | Order |
| Spent Fuel Pool Instrumentation | To provide a reliable wide-range indication of water level in spent fuel storage pools. | Order |
| Seismic Reevaluations | To reanalyze potential seismic effects using present-day information to determine if safety upgrades are needed. | Request for Information |
| Flooding Hazard Reevaluations | To reanalyze potential flooding effects using present-day information to determine if safety upgrades are needed. | Request for Information |
| Seismic and Flooding Walkdowns | To inspect existing plant protection features against seismic and flooding events, and correct any degraded conditions | Request for Information |
| Emergency Preparedness – Staffing and Communications | To assess staffing needs and communications capabilities to effectively respond to an event affecting multiple reactors at a site. | Request for Information |
| Station Blackout Mitigation Strategies | To enhance the capability to maintain plant safety during a prolonged loss of electrical power. | Rulemaking |
| Onsite Emergency Response Capabilities | To strengthen and integrate different types of emergency procedures and capabilities at plants. | Rulemaking |
| Filtration and Confinement Strategies | To evaluate potential strategies that may further confine or filter radioactive material if core damage occurs | Rulemaking |

Tier 2 Activities
Activity
Brief Description
NRC Addressing by…
Spent Fuel Pool Makeup Capability
To provide a reliable means of adding extra water to spent fuel pools
Order [consolidated into Mitigation Strategies]
See COMSECY-13-0002 and its associated approval for details
Emergency Preparedness
To address three aspects of Emergency Preparedness for multi-reactor and loss of power events:


Training and exercises (drills)
Equipment, facilities, and related resources
Multi-unit dose assessment capability

Order [aspects (1) and (2) consolidated into Mitigation Strategies]
NRC-endorsed industry initiative [to address aspect (3)]
See COMSECY-13-0010 and its associated approval for details
"Other" External Hazard Reevaluations
To reanalyze the potential effects of external hazards other than seismic and flooding events (which are being addressed under Tier 1).
Request for Information [planned]

Tier 3 Activities
| Activity | Brief Description | NRC Addressing by… |
| --- | --- | --- |
| Periodic Confirmation of External Hazards | To ensure external hazards, such as seismic and flooding effects, are periodically reanalyzed during the lifetime of a plant. | Rulemaking [planned] |
| Seismically-Induced Fires and Floods | To evaluate potential enhancements to the capability to prevent or mitigate seismically‑induced fires and floods. | Longer-term evaluation |
| Venting Systems for Other Containment Designs | To evaluate the need for enhancements to venting systems in containment designs other than Mark I and II (which are addressed under Tier 1). | Longer-term evaluation |
| Hydrogen Control | To evaluate the need for enhancements to hydrogen control and mitigation measures inside containment or other plant buildings. | Longer-term evaluation |
| Emergency Preparedness | To evaluate additional enhancements to Emergency Preparedness (EP) programs that go beyond the Tier 1 and Tier 2 EP-related activities. | Longer-term evaluation |
| Emergency Response Data System (ERDS) Capability | To enhance the capabilities of the Emergency Response Data System (ERDS) | Longer-term evaluation |
| Decision-making, Radiation Monitoring, and Public Education | To evaluate the need for enhancements to Emergency Preparedness programs in the areas of decision-making, radiation monitoring, and education. | Longer-term evaluation |
| Reactor Oversight Process (ROP) Updates | To modify the Reactor Oversight Process to reflect any changes to the NRC's regulatory framework (which is being pursued under a separate activity). | Dependent on Regulatory Framework activity |
| Training on Severe Accidents | To enhance training of NRC staff on severe accidents and related procedures. | Dependent on outcome of Onsite Emergency Response Capabilities (Tier 1) |
| Emergency Planning Zone | To evaluate whether the basis for the size of the emergency planning zone needs to be modified. | Longer-term evaluation |
| Potassium Iodide (KI) | To evaluate the need to modify existing programs for the pre-staging of potassium iodide. | Longer-term evaluation |
| Expedited Transfer of Spent Fuel to Dry Cask Storage | To evaluate the merits of expediting the transfer of spent nuclear fuel from storage pools to dry cask storage. | See this staff memo to the Commission and staff requirements memorandum for more details |
| Reactor and Containment Instrumentation | To evaluate potential enhancements for instrumentation in the reactor and containment that can withstand severe accident conditions. | Longer-term evaluation |